Divine Divans & Born Again Furniture
For over 20 years, Divine Divans & Born Again Furniture has been providing high-quality fabrics and furniture covers to the Minocqua area. We sell fabrics and create custom designs for upholstery, pillows, cushions, slipcovers and more. We offer a huge selection of fabrics, specializing in antique upholstery.


Learn More

Professional Upholstery in Minocqua, WI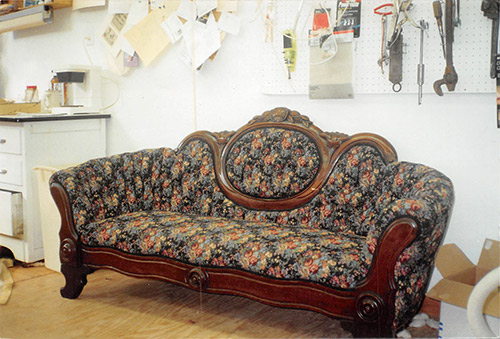 At Divine Divans & Born Again Furniture, upholstery isn't simply a hobby. Owner Angela Calvert holds a degree in upholstery and offers extensive experience in the industry. We offer a full line of services, including re-covering furniture, chairs and cushions, furniture repair, boat seat re-upholstery, custom flip covers and more. We work with multiple manufacturers to ensure we meet the exact pattern our clients desire. Our services are available by appointment, and we work with residential and commercial properties, including resorts. Home and business owners alike know we're the go-to upholstery shop in Minocqua, WI.
Do you have family heirlooms you'd rather not trust to just anyone? Our specialties include antique upholstery. Plus, all work delivered by Divine Divans & Born Again furniture is guaranteed. We work with industry leading brands and are committed to providing top-quality service for every furniture and upholstery project. Locally owned and operated, we make it our mission to be your trusted furniture repair shop in Minocqua, WI. We invite you to join our long list of satisfied customers throughout the region. Don't wait to take advantage of the many customer benefits offered by Divine Divans & Born Again Furniture:
We are locally-owned and -operated, established in 1997.
We offer free estimates.
We work with leading manufacturers and brands.
The shop owner holds a degree in upholstery from Milwaukee Area Technical College.
We guarantee all of our work.
Freshen Your Furniture
Contact the upholstery professionals at Divine Divans & Born Again Furniture to refresh, restyle and renew your furniture today.


Contact Us

Providing full-service upholstery services to the following areas:
Minocqua, WI
Oneida County, WI
Vilas County, WI
Eagle River, WI